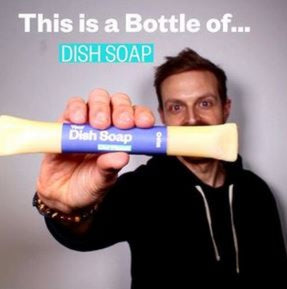 Dish Soap Concentrate
Sale price

$27.95
Regular price
(/)
Want to make you kitchen a little more earth-friendly but prefer liquid dish soap vs. a dish soap bar? Enter in a Canadian made dish soap concentrate that's gentle on hands, cuts grease and is both water and plastic-free.
Thanks to etee (which stands for 'everything touches everything else') you can now wash your dishes while cleaning the planet. The Oshawa based company had a goal of   developing a dish soap concentrate that was zero waste, plant-based and offers a dependable clean. They met that goal and surpassed it with their dish soap concentrate in biodegradable beeswax pods. It is offered here in a package of 3, 'Unscented', in a light 'Citrus Sunshine' scent or in a lovely 'Lavender Lime' fragrance.
The company didn't want to truck water, burning extra carbon and making extra packaging for something we all have at home. So they eliminated all the water and left only four plant based ingredients:
Alcohol ethoxylate (plant-derived grease-cutting agent),
Polyglucoside (plant-derived cleaning agent),
Amine oxide (plant-derived cleaning agent),
Hydroxyethylcellulose (plant-derived viscosity modifier)
Each biodegradable pod holds their all-natural, bio-based concentrated dish soap, made with 100% plant-based ingredients. Free from SLS, Phthalates, Sulphites, Sulphates, Synthetics, Colourants and Fragrance. Each 40ml pod makes 13oz/400ml of liquid dish soap.  
Are Suds Helpful?

Even top 'eco brands' contain SLS, which doesn't 'clean' your dishes, it just makes more suds. According to the David Suzuki Foundation SLS is "... toxic to aquatic organisms."
So the company eliminated all potentially toxic binders and foaming agents including: SLS, Phthalates, Sulphites, Sulphates, Synthetic Colourants or Fragrance.
Will this dish soap concentrate suds?
Yes, but don't expect a synthetic foam.
Will this dish soap clean?
You betcha, the company has the research to support it!
What are the ingredients?
alcohol ethoxylate (plant-derived grease-cutting agent), polyglucoside (plant-derived cleaning agent), amine oxide (plant-derived cleaning agent), hydroxyethylcellulose (plant-derived viscosity modifier)
Note: the Citrus Sunshine variation also includes etee's proprietary blend of citrus essential oils
What is the pod made from?
The pods are made primarily from beeswax and tree resin, as well as a few other plant based oils - therefore, it is fully backyard compostable!
The etee soap concentrate and packaging was developed and made in the Greater Toronto Area, better known as 'Le 6ix', so you can rest assured that they adhere to the highest standards of manufacturing, quality and fair treatment of everyone involved.
How to: Make Your Plastic-Free Dish Soap (unscented/citrus)
Fill a dispenser or jar with 375 ml (12.7 oz) of water.
Rip open your pod of concentrated dish soap over the jar and squeeze the soap into the water.
Stir the mixture, cover with the lid or cap and give the dispenser a good shake. Let it sit for an hour before first use.
Dispose of the pod in the component or garbage (rest assured that it will biodegrade in either). NOTE: some municipal composting programs won't accept natural waxes, so ensure yours does before adding.
Squirt some soap into your sink or onto your scrubby and clean those dishes like a pro.
Rinse any soap from your dishes using hot water and for the best results, dry them with a clean cloth after you are done.
Choose options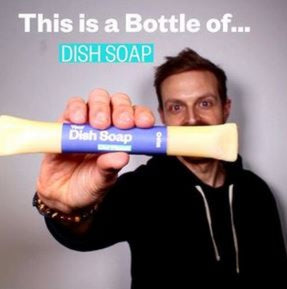 Dish Soap concentrate
Not a huge fan. I know, by the information provided, that there are not supposed to be a lot of suds and that supposedly they don't help, however, when used to fill a pot w hot water, it doesn't make any. Not all that effective. Will stick w the bar.
Smells nice and works well
Really great scents and product works well.