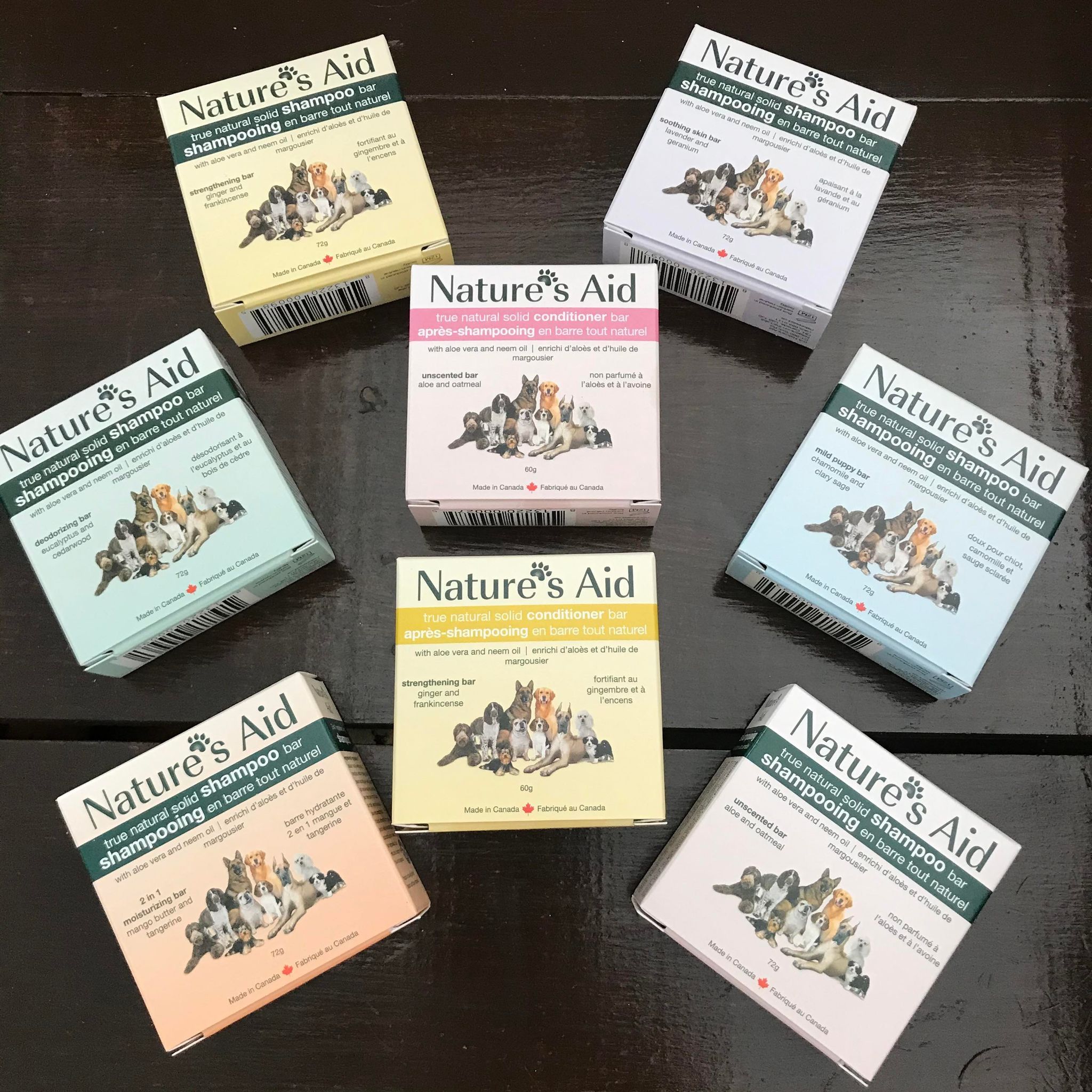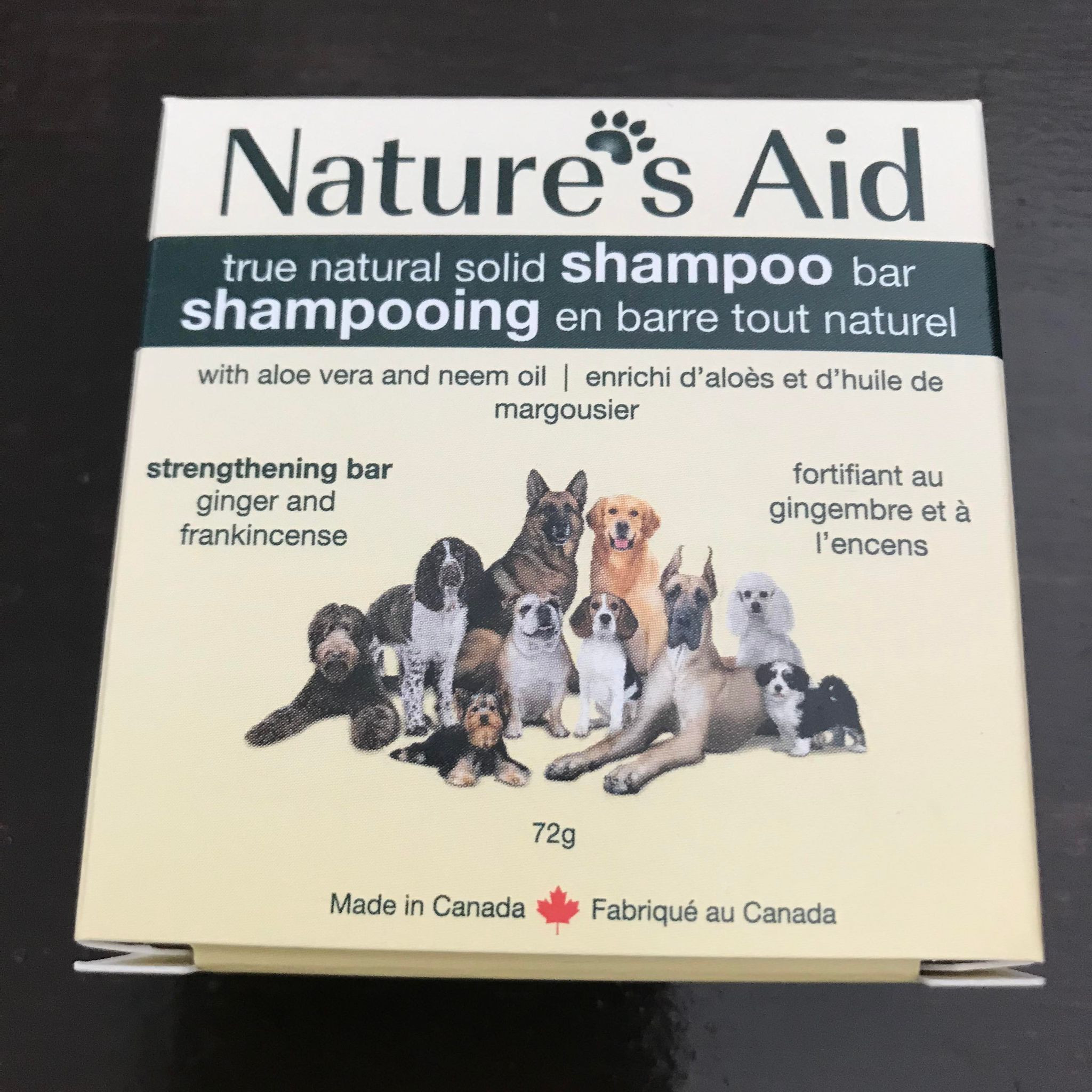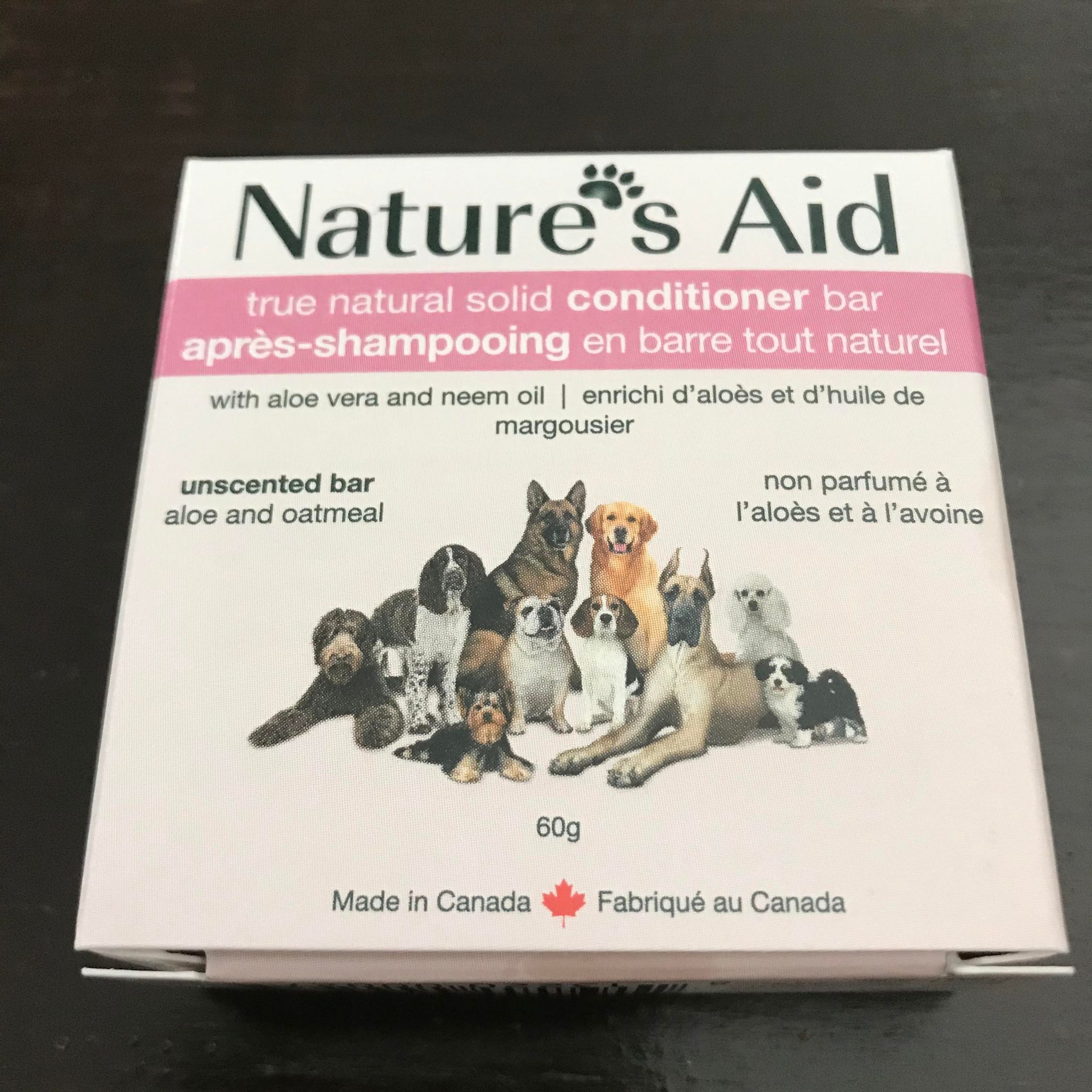 Pet Shampoo and Conditioner Bars
Sale price

$6.45
Regular price

$12.95
(/)
Looking for an easier way to wash your pet? This line of Pet Shampoo and Conditioner Bars from Nature's Aid may be the answer you've been looking for.
These shampoo bars aren't just eco-friendly, they also offer an amazing natural cleanse with skin (and coat) nourishing benefits. Simply wet your pooch, wet the bar, and run it over the length of their coat. Then massage the lather into their coat without the bar. Rinse, and follow-up with one of our true natural conditioner bars for pets. Each bar gives an amazing natural lather, is hypoallergenic, tear free and blended with: 
Oatmeal to nourish the skin
Aloe Vera to condition the fur
Shea Butter to smooth and add shine, and
Neem Oil as a natural flea and insect repellent
The perfect follow-up to Nature's Aid pet shampoo bars are either an unscented or strengthening conditioner bar that will give your dog a healthy, smooth, tangle free coat while helping to reduce shedding.
Enjoy all the benefits of a liquid conditioner or detangler, without the plastic packaging.
What's great for your pet is also great for the planet
Each bar is made with local ingredients, no plastic packaging, and the box is produced in a carbon neutral facility.
Vegan friendly and cruelty free
Absolutely NO artificial ingredients, colours, SLS, palm oils or parabens
Hypoallergenic & tear free
INGREDIENTS

Mild Puppy Shampoo Bar (chamomile and clary sage)

sodium cocoyl isethionate, butyrospermum parkii (shea butter), avena sativa (oat kernel), zea mays (corn starch), aloe barbadensis (aloe vera extract), simmondsia chinensis (jojoba esters), azadirachta indica (neem oil), chamomilla recutita (matricaria flower extract), salvia sclarea (clary sage oil)
Coat Strengthening Shampoo Bar (ginger and frankincense)

sodium cocoyl isethionate, butyrospermum parkii (shea butter), avena sativa (oat kernel), zea mays (corn starch), aloe barbadensis (aloe vera extract), simmondsia chinensis (jojoba esters), azadirachta indica (neem oil), boswellia carteri (frankincense oil), zingiber officinale (ginger root extract), camellia sinesis (green tea extract)
Moisturizing 2 in 1 Bar (mango butter and tangerine)

sodium cocoyl isethionate, mangifera indicav (mango butter), avena sativa (oat kernel), zea mays (corn starch) aloe barbadensis (aloe vera extract), simmondsia chinensis (jojoba esters), azadirachta indica (neem oil), citrus reticulata (tangerine oil)
Soothing Skin Shampoo Bar (lavender and geranium)

sodium cocoyl isethionate, butyrospermum parkii (shea butter), avena sativa (oat kernel), zea mays (corn starch), aloe barbadensis (aloe vera extract), simmondsia chinensis (jojoba esters), azadirachta indica (neem oil), lavandula angustifolia (lavender oil), pelargonium capitatum (geranium oil)
Deodorizing Shampoo Bar (eucalyptus and cedarwood)

sodium cocoyl isethionate, butyrospermum parkii (shea butter), avena sativa (oat kernel), zea mays (corn starch), aloe barbadensis (aloe vera extract), simmondsia chinensis (jojoba esters), azadirachta indica (neem oil), eucalyptus globulus (eucalyptus leaf oil), cedarwood oil
Unscented Shampoo Bar (aloe and oatmeal)

sodium cocoyl isethionate, butyrospermum parkii (shea butter), avena sativa (oat kernel meal), zea mays (corn starch), aloe barbadensis (aloe vera extract), simmondsia chinensis (jojoba esters), azadirachta indica (neem oil) 
Coat Strengthening Conditioner Bar (ginger and frankincense)

theobroma cacao (cocoa seed butter), grape seed oil, cocos nucifera (coconut oil), simondsia chinensis (jojoba esters), azadirachta indica (neem oil), argania spinosa (argan kernel oil), boswellia carteri (frankincense oil), zingiber officinale (ginger root extract), aloe barbadensis (aloe vera extract)
Unscented Conditioner Bar (aloe and oatmeal)

theobroma cacao (cocoa seed butter), grape seed oil, cocos nucifera (coconut oil), simondsia chinensis (jojoba esters), azadirachta indica (neem oil), avena sativa (oat kernel meal), argania spinosa (argan kernel oil), aloe barbadensis (aloe vera extract)
Choose options