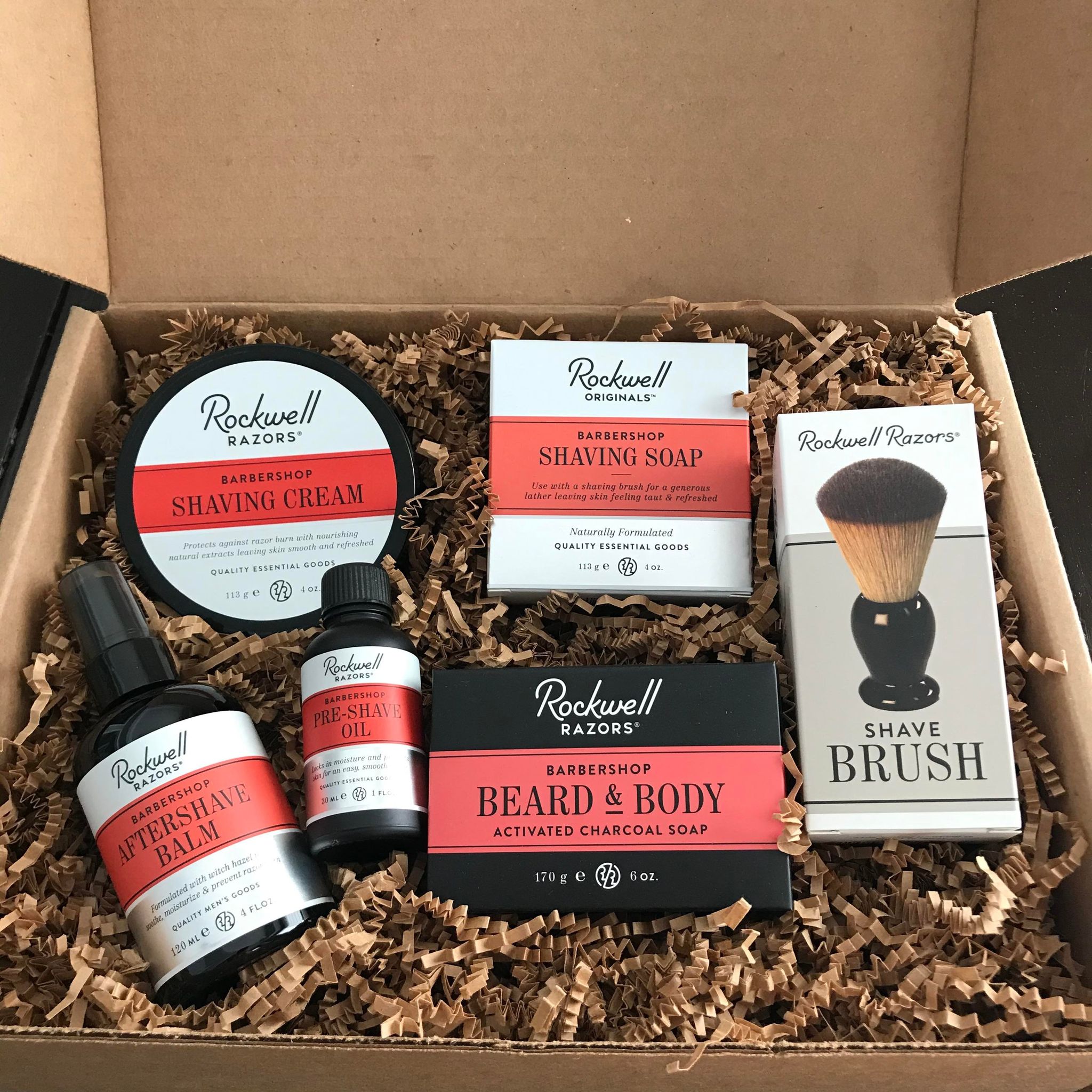 This Rockwell Shave Gift Set features six best selling Rockwell Razor shaving products -  Beard & Body Activated Charcoal Soap, Shaving Soap, Pre-Shave Oil, Shave Cream, Shave Brush and Aftershave Balm.

Beard & Body Activated Charcoal Soap
Formulated with activated charcoal, the Rockwell Razors Beard & Body Soap will penetrate deep into the skin and draw out impurities to produce a deep cleanse. Made with jojoba oil, shea butter, and coffee, it will leave skin moisturized and exfoliated in an instant. Ideal for beard and body, it is a diverse product that will give you a bang for your buck.
Shaving Soap
Rockwell Shave Soap provides a fantastic lather and will leave your skin feeling taut and refreshed after every shave. Please note Rockwell Shave Soap requires a Shave Brush to create a lather. (Best used in a shave bowl or dish).

Ingredients: Coconut Oil, Palm Oil, Safflower Oil, Glycerine, Purified Water, Shea Butter, Jojoba Oil, Sodium Hydroxide, Sorbitol, Propylene Glycol, Sorbitan Oleate, Titanium Dioxide, Oat Protein, Wheat Protein, Fragrance.
Pre-Shave Oil
Calms and Prevents Irritation and itching using all natural ingredients - preparing you for the smoothest shave possible.
The ultimate pre-shaving solution for those with sensitive skin or thick, coarse facial hair.
Shave Cream
Based on our years of experience improving men's shaves, the Rockwell Razor company  formulated this Shave Cream to build a protective, rich lather that works great with or without a shaving brush.
This is the ultimate shave cream for those with sensitive skin, thick facial hair, or anything in between who are looking to protect their skin from nicks, cuts, tugging, ingrown hairs, or razor bumps.
The all-natural coconut oil and glycerin will moisturize and prepare your skin and stubble for a painless shave, while the aloe and allantoin will soothe your skin to ensure a smooth shave that just might be the best you've ever had.
Shave Brush
Rockwell's high-end synthetic bristles have excellent water retention to build a great lather, yet dry quickly after use.
The black acrylic handle is both durable and hefty.
The synthetic bristles don't harm badgers or other animals, and also do not take on the strong stink of badger bristle brushes and other animal-hair brushes.
Unique soft-tipped bristles offer a firm backbone which allows gentle exfoliation of sensitive skin without compromising bristle structure.
Aftershave Balm
Based on years of experience improving men's shaves, the Rockwell Razor company formulated this Post-Shave Balm to immediately soothe irritation and relieve razor burn after each shave.
This is the ultimate aftershave solution for any man looking for fast relief from razor burn or irritation. The Aftershave Balm leaves your skin hydrated all day without leaving any sticky or chalky residue.
The blend of natural oils like jojoba and argan oil, paired with restorative shea butter and mango butter and refreshing witch hazel will leave your skin feeling refreshed, soothed, and healthy.
All of the above products are scented with notes of leather, neroli, anise, and cedar. The Rockwell Barbershop Fragrance will take you back in time to a classic barbershop. You'll love it!

Choose options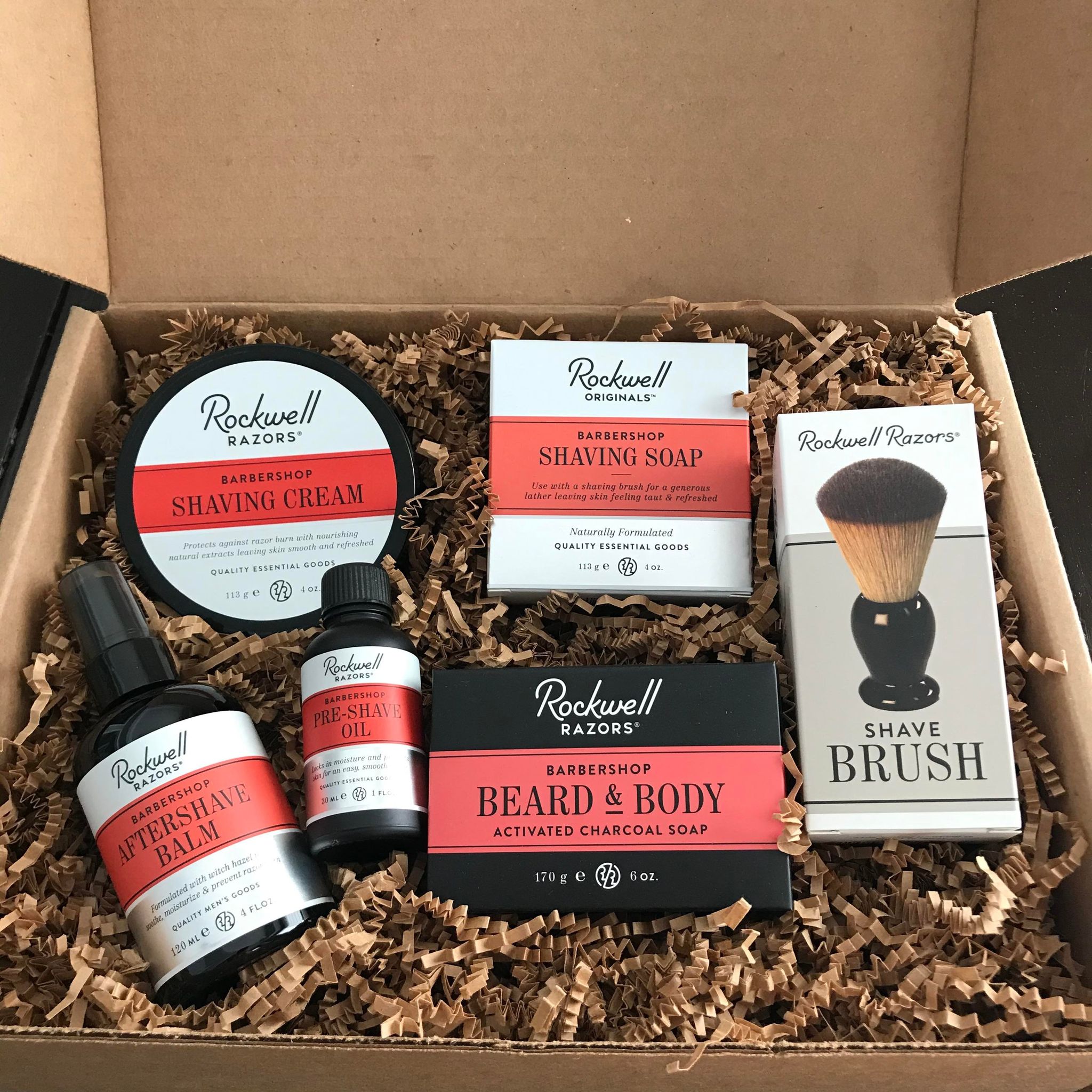 Rockwell gift set
Shaving soap: pleasant scent; postshave balm: pleasant scent, too. Seem to be good for skin and shaving. Brush helped to apply soap well.