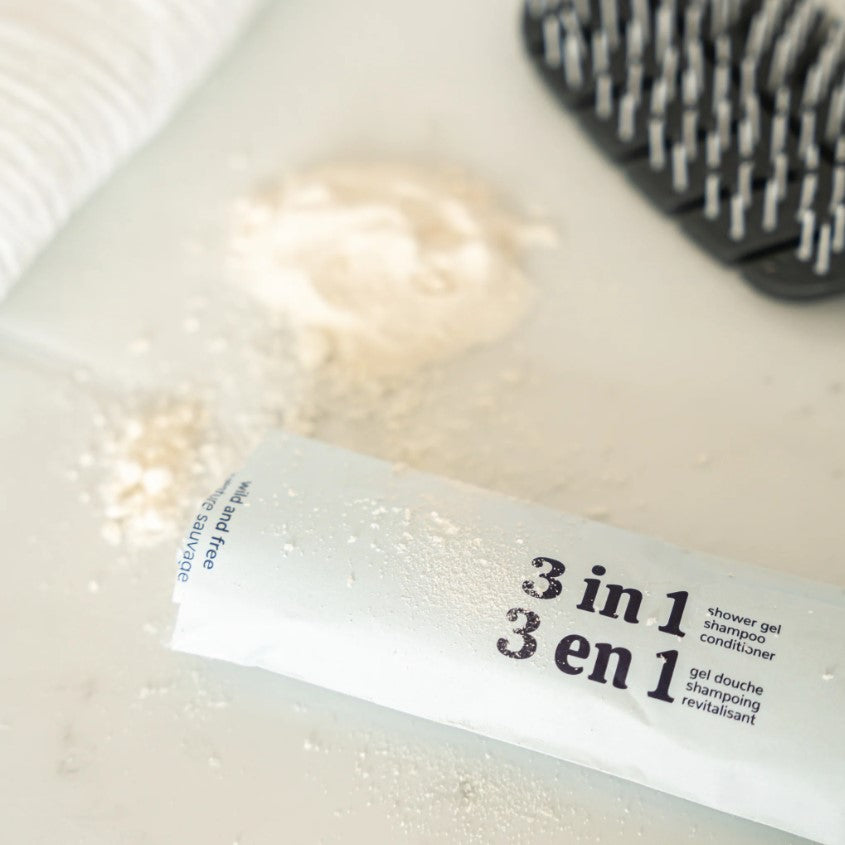 Looking for an earth-friendly shampoo, conditioner and body wash product? This Myni 3 in 1 Starter Set is the first Canadian made 3 in 1 gel in the form of a powder that can be re-hydrated in water. 
When in contact with water, the powder transforms into a gel similar to your favorite shampoo, conditioner and shower gel. No sulphates, no toxic ingredients and no animal cruelty.
Key Ingredients
All the ingredients used in the Myni 3-in-1 hydrate and cleanse your skin without harming the environment in any way. Here are the two main ingredients that make this 3-in-1 powder special.
Oryza Sativa Starch
The Oryza sativa starch, also known as rice starch, is known for its beneficial effects on skin and hair. It's mainly composed of amino acids known to strengthen hair roots and absorb excess sebum from the skin and scalp. It also helps retain moisture in your skin.


Carrageenan
Carrageenan is extracted from red macro algae and is a plant-based substance similar to gelatin. It makes the product smooth and creamy in consistency. It helps your skin retain moisture and makes it soft and supple. In addition, carrageenan helps to moisturize and effectively detangle your hair.
Wheat Straw Bottle
Eco-friendly bottle that minimizes the impact of single-use plastic on our planet. These bottles are made from an innovative bioplastic derived from wheat straw. Wheat straw is agricultural waste.
This innovative bioplastic gives the bottle a plastic appearance while ensuring its durability. It is 100% impact resistant. This material was chosen not only because it is durable but also because it is biodegradable in just nine months (under decomposing conditions).
Compostable Refill Packet
The powder is packaged in a compostable packet made of cornstarch. Once used, simply compost the packaging. Myni "zero waste" packaging is biodegradable and decomposes in 28 days, in accordance with the OECD 301-D standard.
One packet is enough to make about 400 ml of 3 in 1 liquid.
The 3 in 1 Refills are sold separately and come in the following fragrance combinations - Tea Time, Wild and Free, Unscented.
Showering just got way easier
1 - fill the bottle with 350 ml of water
2 - pour the powder over the water
3 - close the bottle and mix gently
4 - after at least 6 hours, mix vigorously
🌿 Compost the package after use.
What's Included
1 x 400 ml 3-in1 white wheat straw bottle
1 x wild and free 3-in-1

Wild and Free Scent: A perfect balance between floral notes and a touch of citrus. Refreshing and spicy.
Safe ingredients for everyone
At Myni, each ingredient is meticulously selected by their scientific team. If an ingredient doesn't meet the company's criteria, they don't use it.
Ingredient Sources

The Canadian brand uses natural ingredients, from natural sources and artificial sources.

Natural: Natural ingredients are a category of ingredients that group together water, minerals and agricultural ingredients.

Natural sourced: Ingredients of natural origin distinguish all ingredients that have NOT been obtained using petrol. These are natural ingredients that underwent a physical transformation as well as natural ingredients that have been chemically extracted or treated following the guidelines of Green Chemistry. This means, ingredients that required a chemical reaction between multiple natural elements in order to create the final product.

Artificial ingredients: These ingredients are synthesized in a lab. The actual chemicals in natural or artificial ingredients may be exactly the same: the chemical structures of the individual molecules may be indistinguishable.
Ingredient Criteria
Myni uses an evaluation scale that takes into account the risks to the planet and to humans.
Good for the Planet
The company's ingredients are from renewable sources, biodegradable and with low risk to our aquatic ecosystems.
Good for the Human
Only ingredients that have a low risk of cancer, reduce the risk of developing allergies and reduce the risk to the reproductive system are used by the Myni company.
Ingredients: Sodium lauryl sulfoacetate, Sodium cocoyl glutamate, Gluconolactone, Carrageenan, Sodium cocoyl glycinate, Oryza sativa starch, Xanthan gum, Maltodextrin, Sodium benzoate, Fragrance, Sodium gluconate, Sodium chloride.
Choose options