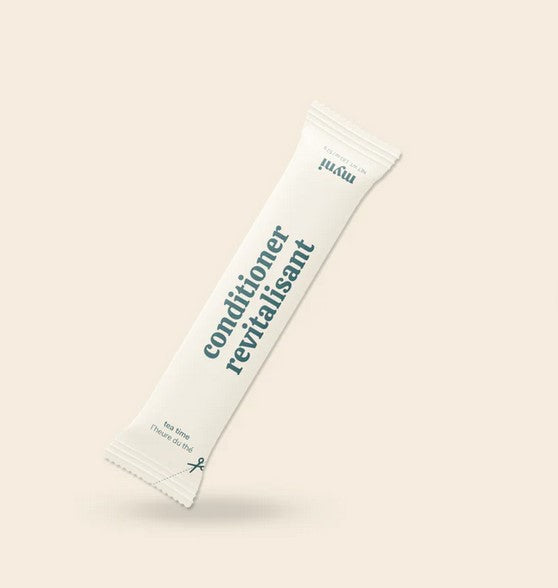 Looking for an earth-friendly liquid conditioner? This Myni Conditioner comes in 3 options - Oh My Peach, Tea Time and Unscented and is the first Canadian made conditioner in the form of a powder that can be re-hydrated in water. Innovative conditioner formula that will keep your hair shiny and smooth all week. 

When in contact with water, the powder transforms into a conditioner liquid similar to your favourite conditioner. No sulphates, no toxic ingredients and no animal cruelty.
Myni conditioner will hydrate your hair strands and keep them hydrated. It is recommended to use the conditioner only on the ends of your hair so as not to weigh it down.
Key Ingredients
The ingredients used in this Myni conditioner are moisturizing for your hair strands and don't harm the environment in any way. Here are the two main ingredients that make this product special.
Ulmus Fulva Bark Powder
Ulmus fulva bark powder is made from the inner bark of the slippery elm. This herbal powder adds shine and sheen to your lacklustre hair and softens curls or locks. Additionally, it acts as a perfect detangler and has a volumizing effect on your hair length.


Oryza Sativa Starch
Oryza sativa starch is obtained from the peeled seeds of rice. This starch is rich in amino acids and absorbs the excess sebum from your hair strands. The rice starch ensures that your hair remains shiny and supple for a long time and protects the strands from environmental damage.
One conditioner packet is enough to make about 400 ml of conditioner.
The conditioner is packaged in a compostable packet, made of cornstarch. Once used, simply compost the packaging. Myni "zero waste" packaging is biodegradable and decomposes in 28 days, in accordance with the OECD 301-D standard.

Use with your own bottle or purchase a Myni Conditioner Shampoo Starter Set.
Plastic free hair conditioning

1 - fill the bottle with 350 ml of water
2 - pour the powder over the water
3 - close the bottle and mix gently
4 - after at least 6 hours, mix vigorously
🌿 Compost the package after use.
Scents
Oh My Peach - Combination of magnolia and peach. Fruity and revitalizing scent.
Tea Time - White tea and pear blend. Sweet and refreshing.
Unscented : Simply no odour
Safe ingredients for everyone
At Myni, each ingredient is meticulously selected by their scientific team. If an ingredient doesn't meet the company's criteria, they don't use it.
Ingredients: Cocos nucifera fruit powder, Oryza sativa powder, Gluconolactone, Maltodextrin, Sodium benzoate, Fragrance*, Xanthan gum, Lauroyl arginine.
Choose options