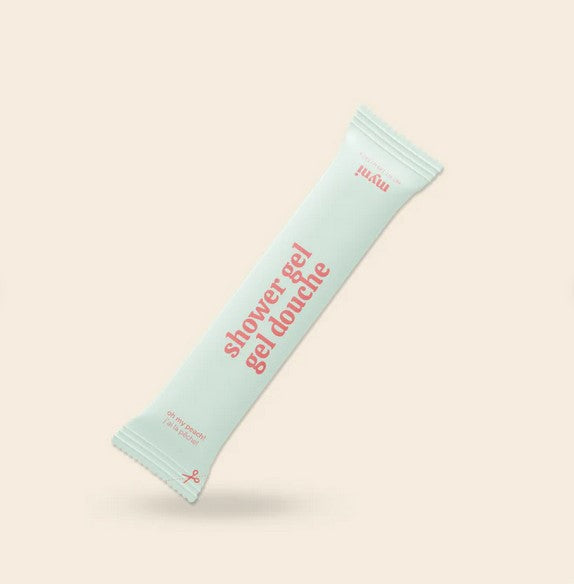 Looking for an earth-friendly shower gel? This Myni Shower Gel Starter Set is the first Canadian made shower gel in the form of a powder that can be re-hydrated in water. 
When in contact with water, the powder transforms into a gel similar to your favorite  shower gel. No sulphates, no toxic ingredients and no animal cruelty.
Key Ingredients
All the ingredients used in this Myni shower gel cleanse and hydrate your skin without harming the environment in any way. Here is the essential component that makes this shower gel powder so special.
Oryza Sativa Starch
Oryza sativa starch is also known as rice starch and is obtained from the peeled seeds of rice. Myni experts have chosen this special ingredient for their shower gel because it keeps the skin moisturized and oiled. 
Wheat Straw Bottle
Eco-friendly bottle that minimizes the impact of single-use plastic on our planet. These bottles are made from an innovative bioplastic derived from wheat straw. Wheat straw is agricultural waste.
This innovative bioplastic gives the bottle a plastic appearance while ensuring its durability. It is 100% impact resistant. This material was chosen not only because it is durable but also because it is biodegradable in just nine months (under decomposing conditions).
Compostable Refill Pouch
The powder is packaged in a compostable packet made of cornstarch. Once used, simply compost the packaging. Myni "zero waste" packaging is biodegradable and decomposes in 28 days, in accordance with the OECD 301-D standard.
One packet is enough to make about 400 ml of shower gel.
The Shower Gel Refills are sold separately and come in the following fragrance combinations - Oh My Peach, Tea Time, Wild and Free, Unscented.
Showering just got way easier
1 - fill the bottle with 350 ml of water
2 - pour the powder over the water
3 - close the bottle and mix gently
4 - after at least 6 hours, mix vigorously
🌿 Compost the package after use.
What's Included
1 x 400 ml shower gel white wheat straw bottle
1 x oh my peach shower gel powder

Safe ingredients for everyone
At Myni, each ingredient is meticulously selected by their scientific team. If an ingredient doesn't meet the company's criteria, they don't use it.
Ingredients: Sodium lauryl sulfoacetate, Sodium cocoyl glutamate, Sodium cocoyl glycinate, Gluconolactone, Carrageenan, Xanthan gum, Maltodextrin, Cocos nucifera fruit powder,  Sodium benzoate, Fragrance, Sodium gluconate, Sodium chloride.
Choose options