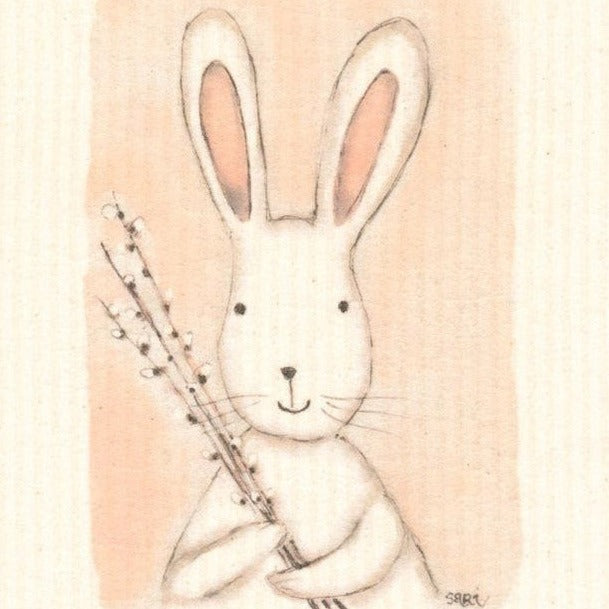 Bunny With Willow More Joy Dishcloth
Sale price

$6.95
Regular price
(/)
This Bunny with Willow More Joy Dishcloth print is an absorbent Swedish sponge cloth made of cellulose-cotton. It is machine washable and biodegradable.
Swedish sponge cloths are a wonderful way to brighten up everyday life and the day of cleaning. They are simply a washable and reusable design kitchen towel.
The design dishcloth is also well suited as a small gift. Did you know that one dishcloth replaces up to 20 rolls of disposable kitchen paper?
Environmentally friendly kitchen towels are made from cellulose fiber from FSC-certified forests and Indian waste cotton.
They are made on a waterless printing line, in environmentally friendly colors. After a long life cycle, the products can be disposed of as biowaste, creating new growth energy.
This compostable dishcloth can be washed in 60°C/140°F.
Size: 6.7" x 7.9"
Material: cellulose/cotton
Qty: 1pc
Made in Finland 
Add a hint of design to your kitchen or jazz up your cleaning routine with a More Joy Swedish dishcloth like this one. This awesome, earth-friendly cloth (20 × 17 cm) is perfect for household chores from washing dishes and cleaning up spills to dusting and polishing.
It is made of a blend of cellulose (70%) and cotton (30%). The sponge cloths are reusable and long lasting. Each Swedish cloth will last for up to 24 weeks of regular use with colors remaining bright and clear.
To clean, the sponge cloth can be tossed in your washing machine (just be sure to let it air dry).
You can also sanitize your Swedish dishcloth by placing it in the top rack of your dishwasher for a cycle or a put a damp one on a plate in your microwave for 30 seconds (just be sure to remove it with tongs).
These biodegradable cloths are also super absorbent (they absorb 20x their weight), making them a good replacement for paper towels.
At the end of use, your Swedish cloth can be cut up and placed in your backyard composter, your municipal green waste bin or buried in your garden.
MIX & MATCH
Buy 3 or more individual or Swedish sponge cloth sets and save 10% at checkout using the discount code SWEDISH10. Valid on all Swedish Cloths
*Use with water, soap or cleaners
*Wipe counters, cleans granite, shines stainless steel and glass
*Streak-free results
*Use as a washcloth or baby wipe
*Washes dishes easily and efficiently
*Polishes silver and brass
*Soaks up spills
*Use as a dust cloth
*Clean around the house
*Use in the garage
*Polish your car, wash your boat
*Good cloth for cleaning windows
*Cleans patio furniture
*Ideal for cleaning vegetables
*Great makeup remover
Please note: A portion of the sales help girls study in Africa.
LOVE SWEDISH CLOTHS?
Check out our full collection of Swedish Sponge Cloths available in Canada.
Choose options