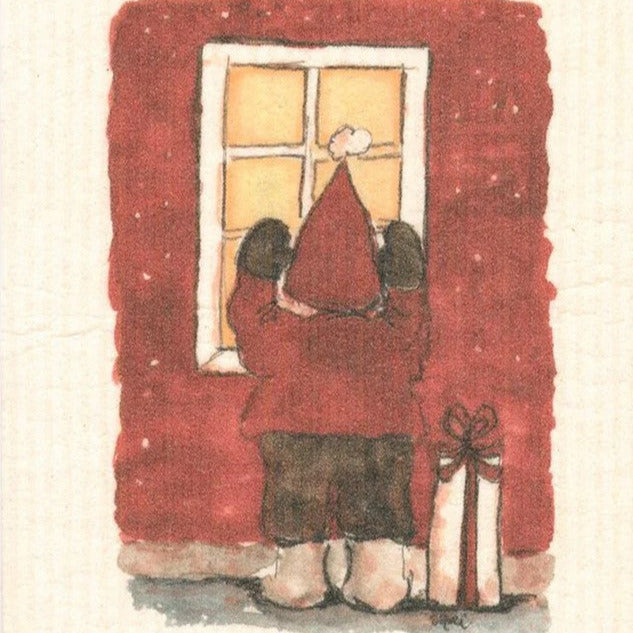 Peeking Elf MORE JOY Swedish Dishcloth
Sale price

$7.95
Regular price
(/)
Introducing our charming Peeking Elf Swedish Dishcloth by More Joy, a delightful addition to your household chores and a perfect holiday gift! This whimsical dishcloth is not only a practical tool for various cleaning tasks but also serves as a creative substitute for traditional Christmas cards. Simply write your message on the back with a washable marker and place it in an envelope – your message will vanish the first time the cloth is used, or use a permanent marker for a lasting sentiment.

Key Features:
Versatile Cleaning Companion: Our Peeking Elf Swedish dishcloth is designed for a wide range of household chores, from cleaning up spills to polishing surfaces. It's your trusty sidekick for maintaining a sparkling home.

Unique Holiday Gift: This dishcloth is an excellent choice for gifting during the holiday season. Its playful design captures the festive spirit, and it's lightweight, making it ideal for sending alongside a heartfelt note in a large envelope.

Eco-Friendly Material: Crafted with care, our dishcloth is made from a blend of cellulose (70%) and cotton (30%). This eco-friendly composition ensures a sustainable and environmentally responsible choice for your cleaning needs.

Durable and Reusable: Say goodbye to disposable paper towels! Our Swedish dishcloth is not only washable but also incredibly durable. It can be used over and over again, making it a cost-effective and eco-conscious alternative.

Absorbent Powerhouse: Despite its slim profile, these dishcloths have exceptional absorbent qualities, capable of absorbing up to 20 times their weight in liquids. They make light work of spills, ensuring your surfaces remain clean and dry.

Long-Lasting Vibrant Colors: Our dishcloths are designed to maintain their bright and clear colors even after months of use. You can count on these cheerful elves to bring a touch of holiday cheer to your kitchen all season long.
Embrace the joy of the holiday season while being environmentally conscious and efficient in your cleaning routine. Our Peeking Elf Swedish Dishcloth is here to help you make your home sparkle and spread some festive cheer. Get yours today and experience the magic of a reusable, eco-friendly cleaning essential that adds a touch of whimsy to your everyday chores.
Choose options