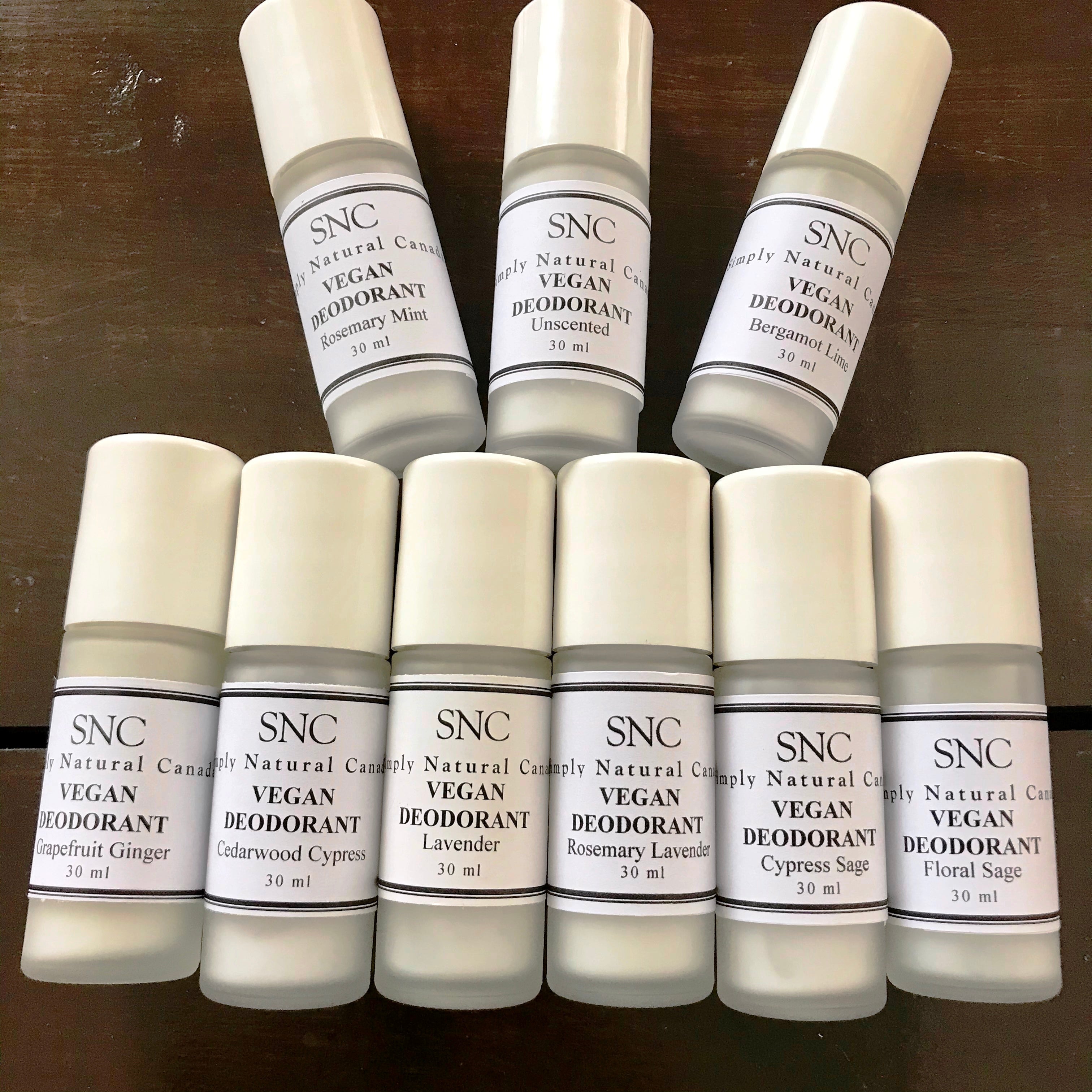 Vegan Roll On Deodorant
Sale price

$16.95
Regular price
(/)
Looking for an effective natural vegan roll on deodorant in refillable glass bottle?
You can feel confident wearing our magnesium based natural deodorant (30 ml).
Not only does our essential oil roll on help keep any odour at bay but you'll be using a long lasting natural product that is as good for you as it is for the environment.
All our natural deodorants are handcrafted in small batches to ensure freshness and quality control.
Not convinced that it will be effective? No worries. It comes with a money back guarantee. Just contact us directly if you have any issues at all with our magnesium based roll on and we'll refund your purchase price.
The active ingredients in our SNC Vegan Deodorant are magnesium hydroxide and potassium sorbate.
Unscented Roll On Ingredients: magnesium hydroxide, potassium sorbate and distilled water
Scented Roll On Ingredients: magnesium hydroxide, potassium sorbate, distilled water and assorted essential oils.                                                                                                               

To refill, remove lid and roller ball top (pops off easily with a butter or pate knife or other flat blunt hand tool), refill, and push top back in place. You can also easily change scents by washing out your bottle and sliding the paper label off.
INTERESTED IN REFILLS? You can purchase a 120 ml glass bottle refill for each scent or contact us directly to have your roll on bottle refilled at a discount.

Here's what customers had to say about our natural roll on deodorant...      
"I'm loving my roll on! I'm pregnant and my own scent was grossing me out until I switched to your products!"
Karlen Herauf
"I really didn't think I would like the roll on because the ones I remember using as a kid were slimy and wet but yours dried right up and felt really good on. I love the minty tingle."
Catherine Hanrahan
"I'm in love with the roll on! It did, as you mentioned, take my body a few days to get adjusted to it, but it works great! I also love how it doesn't stain my clothes."

Carolyn Harpur
"I love the deodorant - I've tried many natural deodorants over the years and none have held up to super hot temperatures or exercise... until this one! It's amazing!"
Maddie D.
Choose options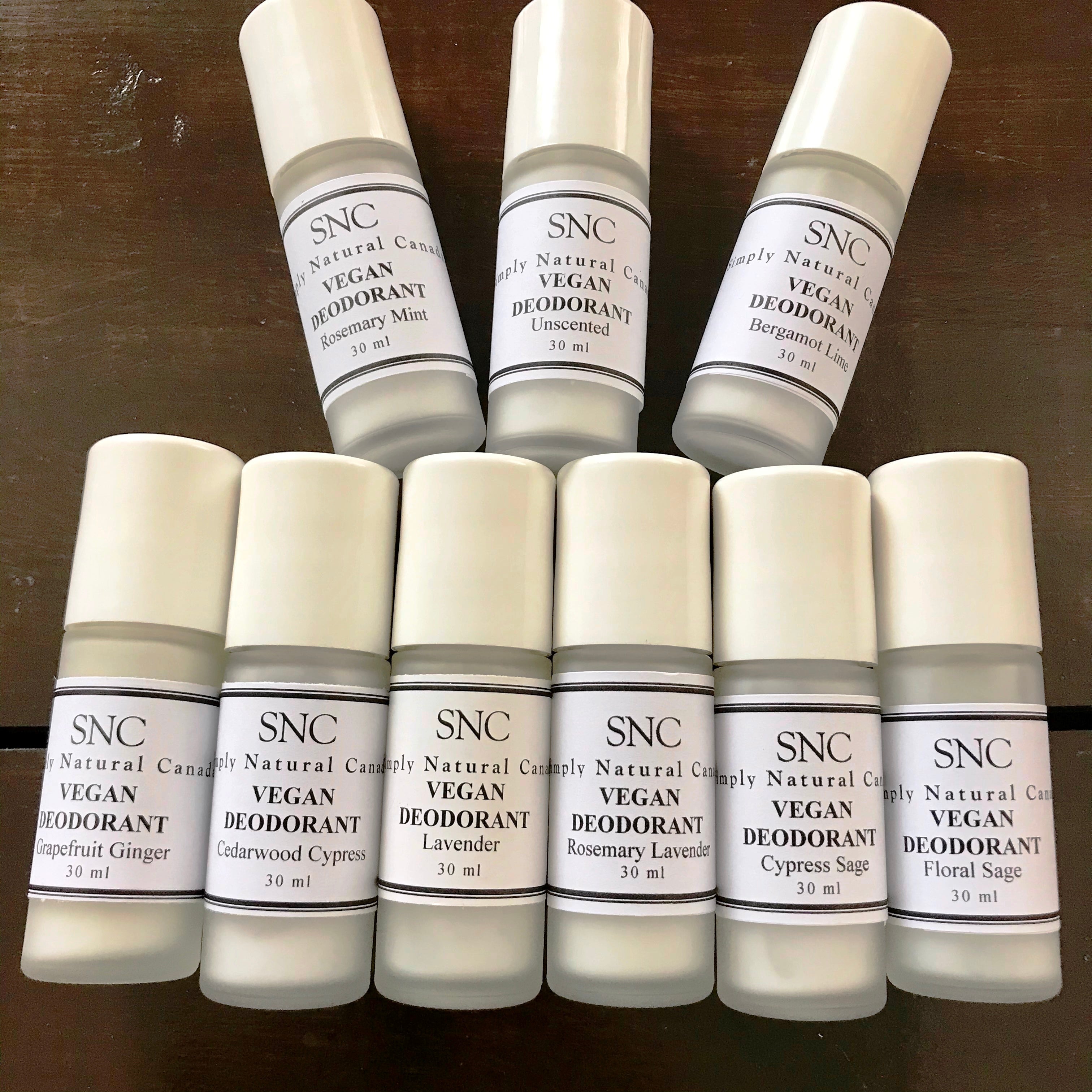 Lifted up!
I am a stage 4 Large B Cell non Hodgkins Lymphoma warrior.
The most upsetting symptom post chemo, radiation has been a persistent strong armpit odour. Tried antifungal, antibiotics. No help. This has had a negative affect on my sense of wellness and happiness. UNTIL .... I found your product, probably an original version on sale at Winners.
After 5yrs of frustration and unhappiness it works!!!! I am beyond relief.
great fragrance and it works
bought 2 of these in different fragrances and love them both - great product
Great scent and it works
Love the fragrance, the fact that it works and is healthy.
Awesome deoderant
This deodorant is awesome, I was surprised it worked so well and it smells like Sage diffuser (in my opinion-I love it), so fresh and light. I will definitely be getting this product again:)
Cindy M
I have been using this roll-on vegan deodorant for a few years. I love the scent and it works! I return my bottles for a refill, so I'm also reducing waste.