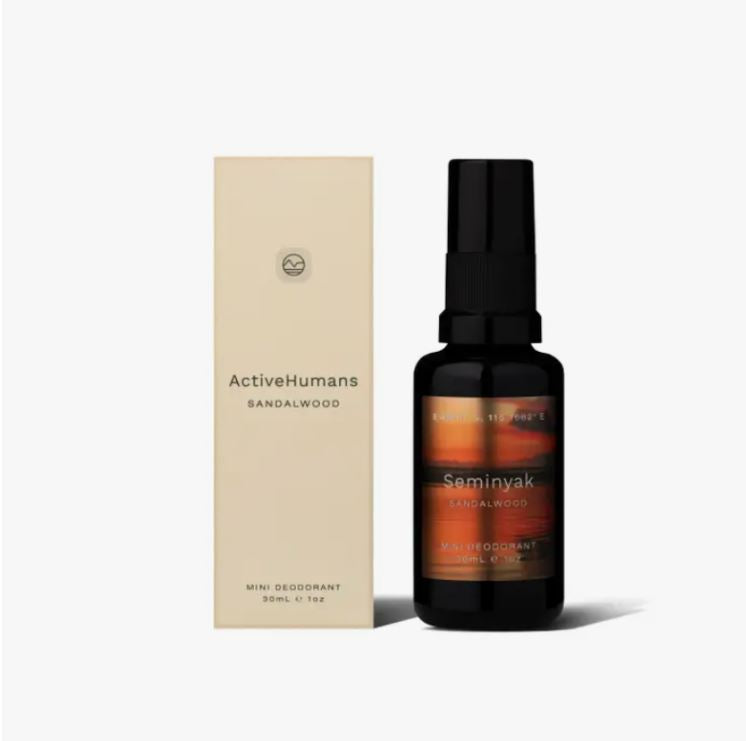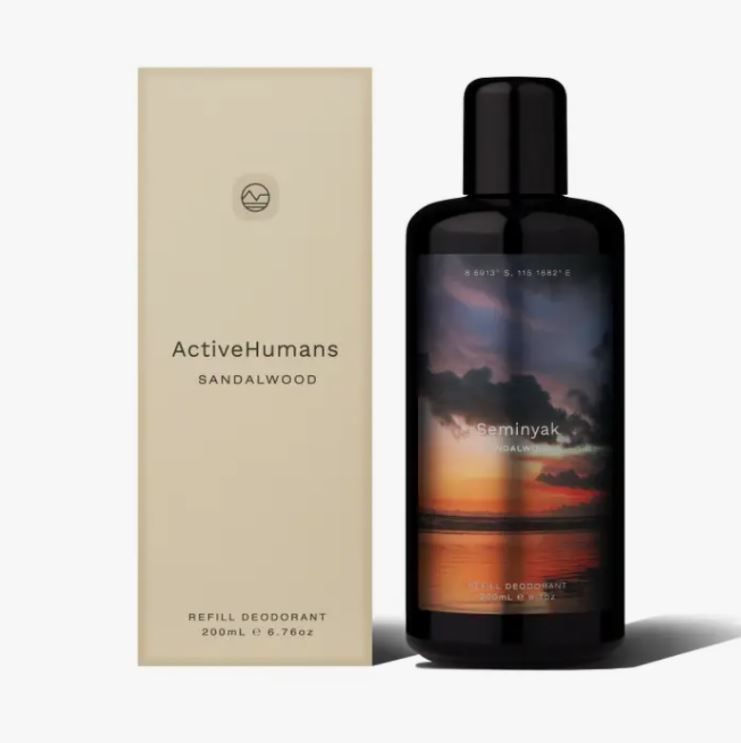 Looking a exotic and robust deodorant? If so, you may want to try this Active Humans Sandalwood Natural Spray Deodorant in either a 30 ml, or 60 ml refillable glass bottle. You can then refill it yourself later with the Canadian brand's 200 ml refill bottle option.
8.6913° N, 115.1682° E
Seminyak, Bali
Exotic sunsets, spiced cedar, sandalwood
In Bali every moment counts and gratitude is a fundamental way of life. To start their day, founders Paige and David woke with the sun and sipped jamu jamu, a traditional elixir that rejuvenates every cell in your body. To immerse yourself in this sacred culture is a privilege and the hospitality of the balinese is unmatched.
Notes of sandalwood incense are nostalgic of evenings spent seaside with the most beautiful sunset on earth. This spiritual island brought meaning to the couple's personal experience of a mind, body and soul connection.
This Canadian made vegan deodorant is a blend of sandalwood, benzoin and himalayan cedarwood. Sandalwood's exotic and rich scent combines perfectly with the subtle undertones of sweet-woody himalayan cedarwood. Benzoin's vanilla-like scent gives warmth and brightness, reminiscent of a hike in the deep woods after a storm.

Plant based ingredients
Active Human formulas are pH balanced to keep the underarm in good health. Each deodorant features a high concentration of witch hazel that absorbs excess moisture, unique vegetable enzymes that break down odorous bacteria and denatured alcohol that works as an natural antibacterial agent and preservative. Chamomile botanical extract soothes sensitive skin while coco glucoside keeps bacteria from building.
Sandalwood scent profile is created using a blend of essential oils and phthalate free isolates. All formulations are free from aluminum, baking soda, sulfates and parabens.
Natural, vegan, cruelty-free
Click here to view the full line of Active Humans Natural Spray Deodorants.
"I wouldn't have thought a deodorant could smell this good. It doubles as a body spray which is amazing. Both my partner and I use it everyday, I wouldn't have guessed this deodorant worked so well because I'm not used to a spray but I'm definitely hooked!"
- Phoenix, British Columbia
Ingredients: Water, Ethyl Alcohol/Ethanol, Hamamelis Virginiana Extract, Saccharomyces Ferment, Matricaria Recutita Extract, Polysorbate 20, Coco Glucoside, Citric Acid + essential oil & fragrance blend (phthalate-free)  

Choose options