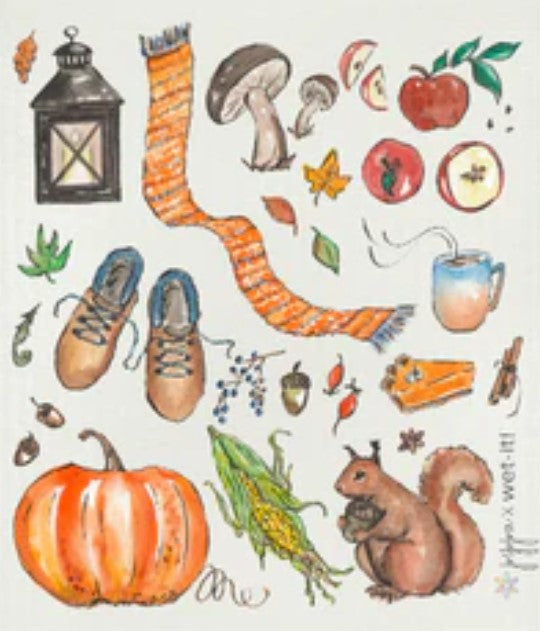 Looking or a beautiful fall Swedish sponge cloth? This Autumn Glow Wet It Cloth may be just what you're looking for.
***More stock coming in early October***
This absorbent sponge cloth is part of The Pippa Collection. Two sisters, Mathilda and Philippa, from Sweden who love to create are teaming up to introduce a new collection of Swedish cloths. The Pippa collection cloths are made in Sweden and printed using a new printing technology. All Pippa designs are originals by Philippa.
*Please note, the Pippa collection cloths will initially feel thinner to the touch when you first receive them. But when you wet the cloths they will turn into the same thickness of  the regular Wet-it! sponge cloths we carry.
Wet-it! Swedish dishcloths are made of high-grade cotton and cellulose pulp. Their special weave makes them highly absorbent - up to 16x their weight in liquid!
Wet-it cloths are designed to absorb like a sponge and wipe like a cloth. They replace paper towels, sponges and many other types of cloths. Wet-it cloths are not abrasive. They are commonly used in the kitchen for washing dishes, wiping counters, cabinets, cleaning the refrigerator, microwave and more.
Beyond the kitchen, the cloths are great for general cleaning such as damp dusting, washing windows, mopping the floor and cleaning the bathtub, sink and toilet. The list goes on - the uses are endless...so be creative!
Wet-it cloths are extremely versatile, stylish, reusable, sustainable, biodegradable and compostable all in one! 

MIX & MATCH
Buy 3 or more individual or Swedish Dishcloth sets and save 10% at checkout using the discount code SWEDISH10. Valid on all Swedish Cloths
They are also super easy to keep clean. Here are a few ways:
PLACE CLOTH ON TOP RACK OF DISHWASHER THEN LET AIR DRY
PUT CLOTH INTO THE WASHING MACHINE WITH OTHER ITEMS
WET THE CLOTH AND PLACE IN MICROWAVE FOR THREE MINUTES (caution: the cloth will be HOT)
PLACE INTO A BOILING POT OF WATER 
Dishwasher safe
Machine washable
Bleach when needed
70% cellulose 30% cotton
 Size: 6.75" x 8" 
Love Swedish Sponge Cloths?
Choose options