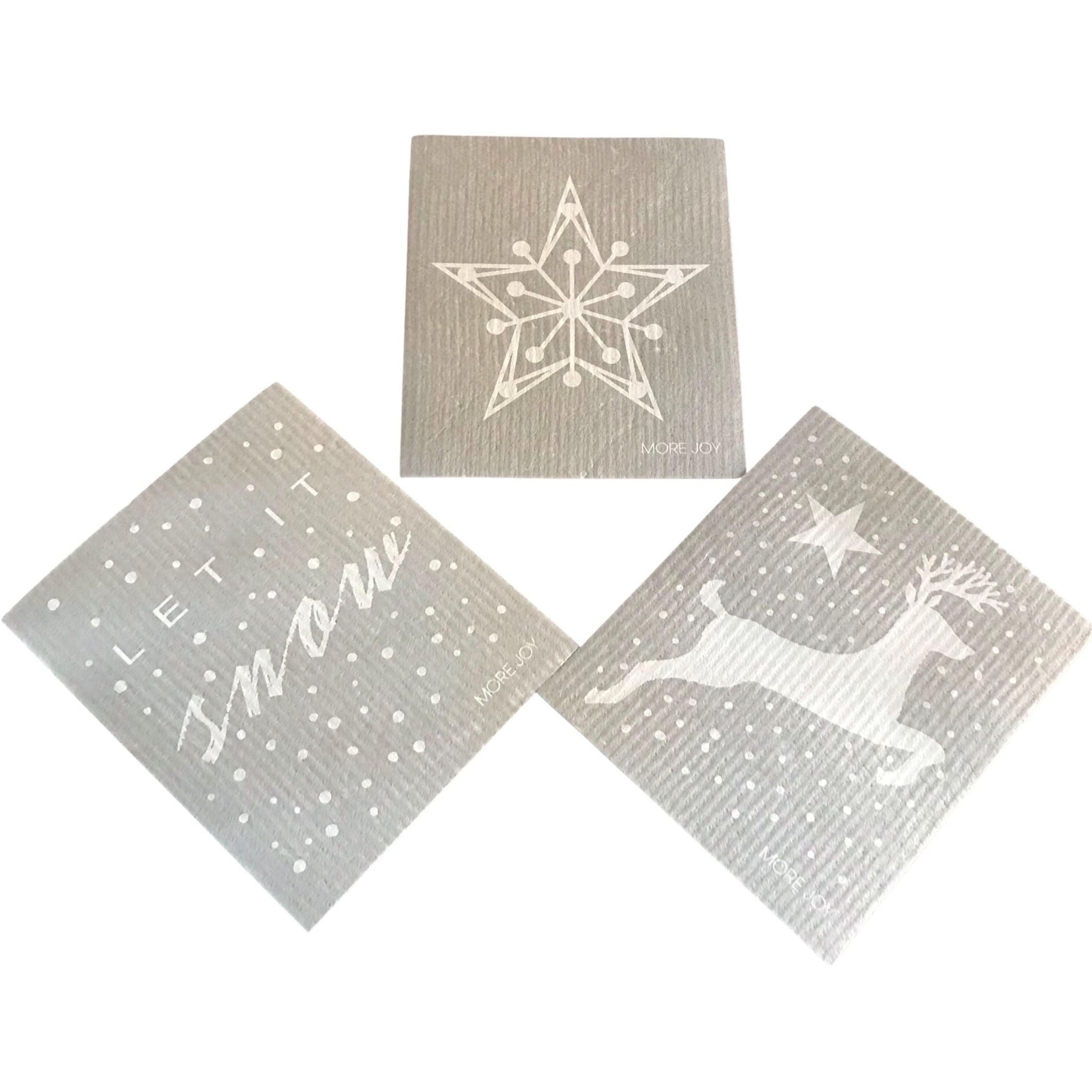 Christmas Snow MORE JOY Swedish Dishcloths - Set of 3
Sale price

$21.95
Regular price
(/)
Introducing our charming Christmas Snow Swedish Dish Cloths - Set of 3, your ultimate partners for a wide array of household tasks, from tackling spills to adding a gleaming finish to surfaces. This set features three enchanting designs - Let It Snow, Star of Pearls, and Reindeer in Snow, each bringing a touch of winter wonder to your home.

These delightful dishcloths are not just functional; they're also a creative alternative to traditional Christmas cards. Simply write your message on the back with a washable marker and place it in an envelope – your message will vanish the first time the cloth is used, or use a permanent marker for a lasting sentiment.
Key Features:
Versatile Cleaning Companions: Our Let it Snow-themed Swedish dishcloths are expertly designed to handle various household chores with ease. Whether you're dealing with spills or enhancing the shine of your surfaces, these dishcloths are up to the task.

Unique Holiday Gifting: These dishcloths are not just practical; they also make fantastic gifts, embodying the holiday spirit. Lightweight and easy to mail, they serve as a thoughtful alternative to traditional Christmas cards. Slip them into a large envelope alongside a personal note for a special and eco-friendly present.

Eco-Friendly Composition: Crafted with a blend of cellulose (70%) and cotton (30%), our dishcloths prioritize eco-consciousness while offering outstanding durability. By choosing these, you're making a sustainable choice for your cleaning needs.

Durability and Reusability: Wave goodbye to disposable paper towels! Our Swedish dishcloths are not only washable but also exceptionally durable. They can be used repeatedly, presenting a cost-effective and environmentally responsible alternative.

Impressive Absorbency: Despite their slim profile, these dishcloths have remarkable absorbent properties, capable of soaking up 20 times their weight in liquids. Cleaning up spills becomes effortless, leaving your surfaces dry and spotless.

Vibrant and Long-Lasting Colors: Designed to retain their bright and clear colors, these dishcloths stay visually appealing even after several months of use.
Embrace the winter season with style and practicality. Our Let it Snow Swedish Dish Cloths - Set of 3, adorned with Let It Snow, Star of Pearls, and Reindeer in Snow designs, are not only washable, reusable, and eco-friendly but also bring a touch of winter magic to your daily cleaning routine. Don't miss this opportunity to make your household chores a delightful and efficient experience. Order your set today and experience the enchantment of these winter-themed dishcloths.
Choose options