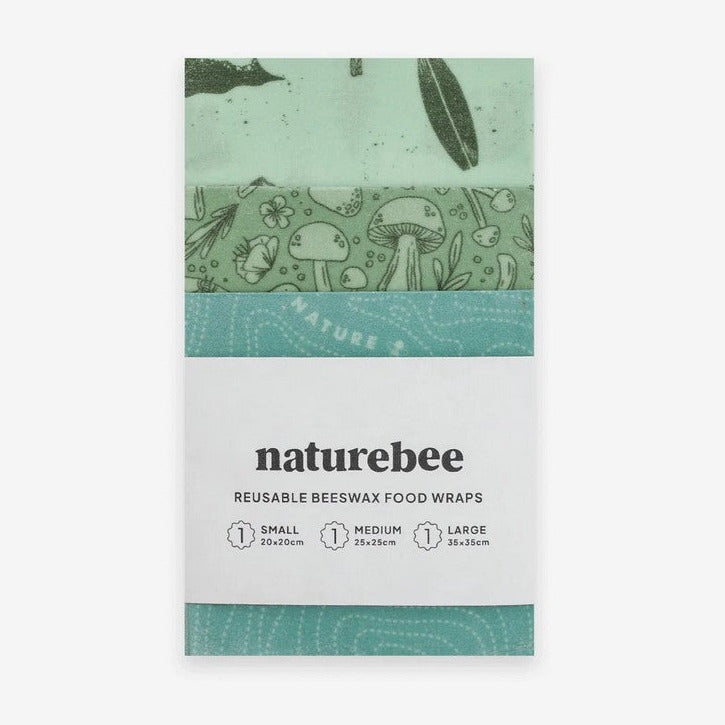 Pacific Northwest Beeswax Wrap Set
Sale price

$21.95
Regular price
(/)
Love beeswax wraps? This Pacific Northwest Beeswax Wrap Set by Nature Bee is a variety pack inspired by where the company is based and where they make their beeswax wraps!

The Pacific Northwest set showcases the beauty of Vancouver Island, including the wildlife, endless forests to explore, and the calming sounds of the ocean.
WHAT'S INCLUDED:
1 large beeswax wrap → 35 x 35 cm, perfect for sandwiches, lettuce, covering containers, and bundling items together like loose carrots
1 medium beeswax wrap → 25 x 25 cm, best for half-cut veggies or fruit, cheese and covering leftovers
1 small beeswax wrap → 20 x 20 cm, great for small snacks like baby berries, crackers, cookies, apple slices, oranges, and more
WHY YOU'LL LOVE THEM:
Made from 100% cotton, pine tree resin, jojoba oil, and Vancouver Island sourced beeswax

Durable & reusable: lasts ~ 9-12 months / up to 300 uses with proper care

Sustainable: biodegradable & compostable

Handmade by the small but mighty team at Nature Bee


Bright & fun: brings a pop of colour to your kitchen

Eco-friendly: each use helps reduce single-use plastic from entering landfills and oceans
HOW TO WASH BEESWAX FOOD WRAPS

Step 1: Brush off Residue
With a damp cloth, brush off any food residue from the surface of your your beeswax wrap.
Step 2:  Cold water is key
Use cold water to wash your wraps - hot water could melt the surface of the wrap and damage it!
Step 3: Give a gentle scrub
Wash with cold soapy water and give it a gentle scrub with a washcloth to wash away any stubborn food residue. 
Step 4: Lay your wrap to dry
Lay or hang your wrap out to dry, and store in a cool dry place until you use your wrap again.
Caution - beeswax wraps are flammable and can melt; keep away from heat. Do not use with raw meat. Do not microwave. Wash with cool water, soap and a gentle tool; do not wash with hot water or abrasive tools.
Choose options