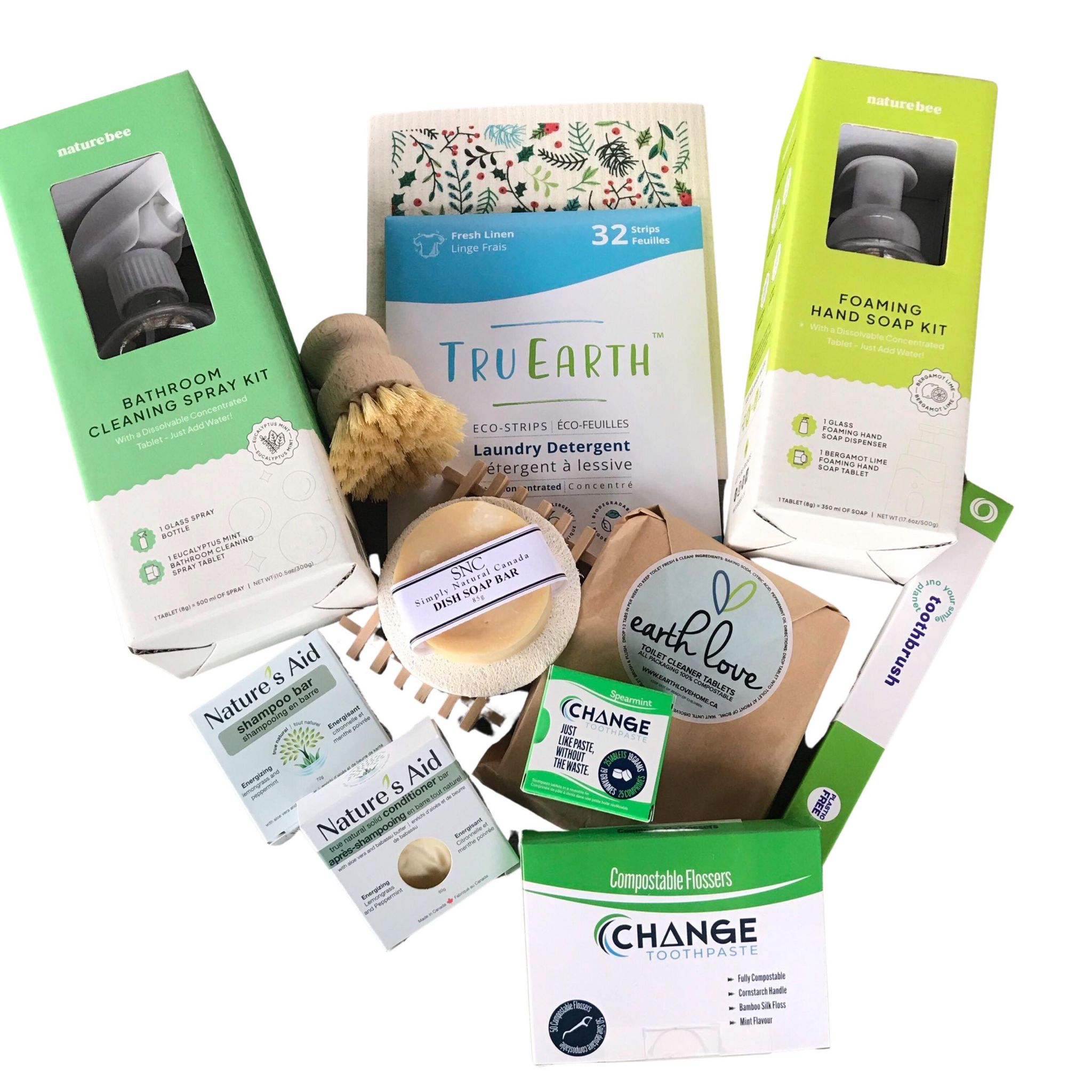 Best Sellers Gift Box - Deluxe
Sale price

$150.00
Regular price

$150.00
(/)
Introducing the Bestsellers Gift Box Deluxe - the ultimate sustainable gifting solution for this holiday season. This deluxe gift box is carefully curated to bring a smile to your loved ones while making a positive impact on the environment. Packed with a variety of essential earth-friendly products from top Canadian brands, it's the perfect gift for eco-conscious families who value quality, sustainability, and convenience.
What makes the Bestsellers Gift Box Deluxe stand out:
🌿 Sustainable Goodness: Inside this eco-conscious gift box, you'll discover a thoughtfully selected assortment of the best-selling personal care and household cleaning products. Each item is carefully crafted to minimize its environmental footprint, from production to disposal.
🍁 Canadian Brands: We've collaborated with reputable Canadian brands to showcase their top-performing, environmentally responsible products. It's a celebration of local craftsmanship and dedication to sustainability.
🎁 Perfect for Families: This gift box is a treasure trove of eco-friendly products that cater to all aspects of daily life, making it an ideal choice for families and households. It offers an array of products designed to bring a touch of eco-conscious luxury to every corner of the home.
📦 Free Shipping Across Canada: We believe in making sustainable gifting as convenient as possible. That's why we're offering free shipping across Canada, ensuring that this particular gift box reaches its destination without any extra cost.
✉️ Personalized Touch: Want to make it even more special? You can send this Bestsellers Gift Box Deluxe directly to your recipient with a personalized gift note, adding a warm and personal touch to your sustainable gesture.
Here's a glimpse of what you'll find inside:
🌱 Lemongrass Peppermint Shampoo and Conditioner Bars from Nature's Aid 🏡 Bathroom Cleaning Spray Kit and Foaming Hand Soap Kit from Nature Bee Clean 🪥 Change Toothpaste Tablets in a Travel Tin and Compostable Flossers 🌿 Replaceable Head Bamboo Toothbrush from etee 🌟 More Joy Swedish Cloth with a Holiday Motif 🌊 Earth Love Toilet Cleaner Tablets 🍽️ SNC Dish Soap Bar 🪟 Wooden Soap Dish 🍃 Pot Scrubber Brush 🧽 Loofah Sponge Slice
This Bestsellers Gift Box Deluxe is the embodiment of eco-conscious luxury and an invitation to embrace a more sustainable way of living. By gifting it, you're not only spreading joy but also encouraging a greener, cleaner, and healthier world. So, make this holiday season unforgettable and sustainable with the Bestsellers Gift Box Deluxe. It's more than just a gift; it's a commitment to a better future.
Choose options